You are here: Famous Psychics :: Pam Coronado
Famous Psychics
Pam Coronado
Pamela Coronado is a personal favorite of mine in terms of a psychic / medium figure featured in the public. Pam got her start in psychic criminal work when she had a dream in 1996 about a missing California woman. She relied on her psychometry and intuitive abilities to help law enforcement help find the woman. I think that's very brave of someone to approach law enforcement with information based on a dream! But obviously she's gained respect in the industry based on her expertise and years of experience. Part of Pam's training came from working extensively with popular psychic trainer Beverly Jaegers and Alan Vaughan, a parapsychologist.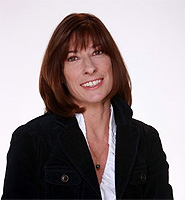 Pam started her TV appearances in 2001 when she got involved with New Line Cinemas for a documentary about her evolution as a psychic and this work resulted in the release of Premonitions on the Final Destination DVD. More currently, I enjoy her television shows which include Sensing Murder by Investigation Discovery and We See Dead People featured on A&E Biography Channel.
I like Pam for her no nonsense approach to being psychic but I also like the fact that she believes we can all increase our own psychic abilities. While this ability may be more natural to some, with some work and effort, most anyone can increase their psychic ability. She shares similar viewpoints that our psychic ability is like a muscle and we can either not use it and let it atrophy, or constantly work it and make it strong. As a testament to this, Pam offers classes on her site, including ones on how to be a psychic detective, and I encourage anyone serious about pursing this type of path or career to take classes from Pam. And like Pam, you can probably pursue a private investigator's license and endeavor to make a serious career out of it. I am very envious of anyone who gets to do this kind of rewarding work in such a fascinating field. I think we need more psychics out there helping people take their abilities to the next level, especially the youth while they are still in their formative years. I recently bought a CD from Pamela's site on becoming more psychic which included some information on remote viewing. Being that I also took classes from Dr. Wayne Carr from the Western Institute of Remote Viewing, I had something to compare to, and I found her guidance and teachings as accurate and effective as Dr. Carr's.
A personal passion of Pam is her Project Search for Hope. This is a volunteer, non-profit group of psychics and intuitives that help people with missing family that disappeared under "suspicious circumstances". These people are usually asked to assist after law-enforcement resources have been exhausted. It is wonderful for her and those involved to give this added element of hope to such a frustrating and agonizing situation.
If you find her as fascinating as I do, be sure to sign up for her free newsletter, which I personally enjoy on a regular basis. These can include information on astronomy, psychic predictions for the world, quotes, tips, articles, case files of interest and so on. Here is one that Pam herself encourages the public to share with their friends or readers.
When I get a clear idea in my mind about what kind of questions I'd like to have answered by Pam, I'm going to sign up for a reading. I'll be sure to post my outcome here!
To share this page: