Some years ago a 20-year-old girl disappeared not far from where I lived. I was told that because I have some untrained psychic gifts (sense energy of others, sense illness, plus telepathy), I was asked to help find her. I was given a locket of hers and when I put it on, I nearly fainted. I saw a long dark tunnel and at the end there was simply black. I quickly took it off and became afraid of the two friends who had brought me into the situation. In addition, I had promised her parents I would find her, and did not have the heart to tell them I now believed she was dead.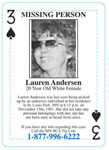 It has been nearly 30 years now and she is still missing. One of the friends who asked me to help find her committed suicide a few years after she went missing. There had always been a terrible dark energy around him, and I couldn't understand it, as he was very nice looking and polite. I began to wonder if he was connected to her disappearance and if he had involved me in order to find out where the investigation stood.
I had tried to contact the local police on a few occasions to make sure they knew this, but my calls were not returned. Now the case has been referred to the BCA, which has a deck of cards of cold cases, and I was able to communicate with them. I feel as though the universe is finally opening up and the truth of what happened to her will be known soon. I am looking for advice as to what I can do, and even what my involvement means, in terms of helping the truth to finally emerge. Thank you.