After I stumbled upon the answer to the visual distortions I see all the time, I quite accidently opened a portal to another dimension. I was in the shower-meditating on the colors and patterns I see, when the black specks in the tv "static" I always see changed. From the edge of my peripheral vision inward, the black "specs" grouped together and formed a perfect circle that swallowed my peripheral vision, and me along with it. I was still awake, I could hear the water running, and happenings in the house, but I was someplace else. It was black, and this space seemed huge. I could see the aura around my foot for the first time, it was yellow, but my actual leg was "invisible" it was the same black as the rest of this place. I saw a symbol I've never seen before. I could go in and snap out of this altered state. After much research on these symbols I learned some very profound things. This symbol was an ancient celtic rune that had been encrypted-see rune casting. It was a protection sybmol, and in asking a respected peer about this event I was told this was a "retro-cognition" psychic event.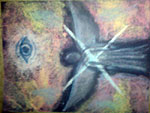 The next week I was lying down in my bedroom, it was mid-day, and the room was very bright. After only 3 minutes of closing my eyes, I could no longer see the light through my eyelids, and the colors I see began to transform. I saw a being, and the background was a yellow and pink mix. There were no hard lines in this place, the being was pure energy. It looked tall and slender, almost "grey alien" like. It came floating towards me and showed me that it had aura wings- I'm sure it sensed my fear. The being showed me another rune, "x", which I researched to mean "gift". Just then, I felt an amazing energy pulse through my body that I can only describe as "pure bliss". There was no way this being was bad, or had ill intentions. It felt better than anything I've ever experiences, nothing even comes close in comparison.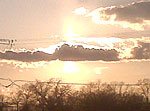 The background was constantly morphing, waves of colors and energy. This was not a physical being, nor a physical place. I could feel my eyes movnig as if in REM sleep. But I was awake, I could hear what was going on around me. Sometimes it would get too intense for me, and I'd open my eyes, but when I closed them again, the same magnificent being was there. I heard the sound power makes when rushing through powerlines, a kind of crackle. I saw an eye--like the all seeing eye, the outline was blue, and the background was pure white light. Each time I closed my eyes again, the same being was there to take me by the hand and lead me through this place of light and energy. I felt strange sensations about 15 minutes into this experience, it was unmistakably me starting to astral project--I was leaving my body. I didn't feel ready for this, so I tried to get up. Even after I got up, I felt like I was still in this place for probably four hours. I felt charged with goodness that can only come from the Divine being. It was kind of hard to move, I was sluggish. I attribute this to the energy current rushing through my body--like electro-shock therapy might effect someone. I now have a "tingle" in my left middle ear, and sometimes I can hear the "crackle" of the place of energy.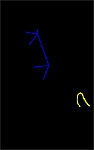 I thought I may have been found by the being that showed me I am spiritually protected. I saw the form of this being every time I closed my eyes. It would calm me down, chase away my bad goosebumps, and replace it with a perfect calm. This tingle I thought must be the being communicating with me, though I couldn't understand it. Two days ago I was laying in bed, trying to communicate with this being. I thought surely if this is my guide/protector I should know its name, as this seems to be "natural". Then a name came to me. I didn't see it, and it wasn't spoken. It was a thought placed in my mind. "Ariol". I immediately googled this name and found something profound. Ariol/Uriel is a very powerfull angelic being, that I had never heard of. In some sects Ariol is described as an Arc Angel, but Ariol is more than that. Older texts describe Ariol as a seraphim, or a Cherubim--the highest order of spiritual beings connected to the divine being. Ariol is described as "the lion of god", the "healer", "the eyes of the divine spirit". I could not have asked for, nor expected to recieve such a mighty protector and guide. Ariol is my gaurdian, and I fear nothing now.