I have a birthmark that looks eerily similar to another member (who I've already contacted) except for mine is on the inside of my left knee. My dad calls it my star map.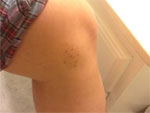 When I was 12 to 15, I had multiple unexplained, perhaps psychic experiences. My grandfather's spirit visited me shortly after he died and consoled me; I was 12. I was lying in bed quietly crying when his form appeared next to my bed on the left side. He was a light blue, almost a mist. I remember he said something to me and I stopped crying and immediately felt warm and comforted. I would often see lights hover above my bed at night and I would always wake up at exactly 3 am. When I woke up, which was every morning, I wouldn't be able to sleep until 5 am. Sometimes I would be so scared, I would curl up on my parents' floor.
It's only recently, 10 years later, that I finally feel comfortable between the hours of 3 and 5. I still wake up at exactly 3:00, but can fall back asleep. To this day, I have the innate ability to wake up no more than 3 minutes before I need to be up in the morning. I can change my sleep schedule to ridiculous hours and still always manage to wake up right before my alarm goes off. My paternal grandfather (the one who's ghost I saw) also had this "ability" so maybe it's not supernatural, but I'm never late. I also have the knack for singing a song or thinking of calling somebody, and then the next thing I know it's playing on the radio or the person I was thinking about calls. It happened earlier this morning actually, with a commercial.
My mother swears she encountered a UFO in the backwoods of Michigan and my maternal grandmother had an experience that she would never talk about. Every time the subject of UFOs or aliens came up, she left the room in a hurry. All of the females on my maternal grandmother's side of the family has had experiences with the paranormal, but no one has a birthmark like mine.
When I told my dad about the balls of light and waking up every morning at 3 am, he blanched. Little did I know that at the time my dad was reading the book Communion: A True Story, which is about a family's experience with the extraterrestrial. The author's daughter was having the same claims as I was and the theory was that females going through puberty are more sensitive to the paranormal.
When I was in 6th grade I was sitting on my bed doing Geometry homework and I had an OBE. I was above myself looking at myself doing the homework, but I was also aware that I was staring at the page in front of me. The next thing I know I was snapped back into my body and my entire body jerked. I'm trying to be open minded, but part of me just thinks it was boredom from doing math.
I feel like I've grown out of most of my "abilities" or "sensitivities". I'm a Christian, through and through, but I'm also very open-minded. The older I get, the more skeptical I become, but in my heart of hearts, I know that what I experienced were not the creations of an overactive imagination.