When I was a teenager I had an experience with what I'd call a dark spirit. It started when I was hanging with friends, We would always walk around at night and go wherever, maybe this led to my events I don't know.
I was walking by a stairway when something lunged at me it was like a glowing white skin color with what looked like veins of different colors going acrossed its face it wore a loosely fitted black outfit, I instinctively switched the light on and it seemed to literally slither back up the stairs. After this a series of events unfolded where I kept seeing different things I was having nightmares and was seeing black shapes that litterally burned my eyes when I looked at them,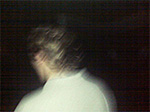 I've always seen white and black humoniod figures but it just got ridiculous from a giant bird like thing in one of those store rental dumpsters to a tall black muscular being with small spikes very small spikes on his head sorta like it was suppose to be his hair, around the size of a battery charger where you hook it up in your phone or tablet.
To this day I wish I had answers if anyone can clarify this for me it would be great. I've always seen things like people, e walking down sidewalks that disappear which is rare all the way to a full blown car driving past a tree while I'm on a sidewalk and the car disappears behind the tree. My friend has taken a picture of me and seen a creature with bull like horn I know classic sorry only to have it not be in the picture when I tried to upload it to the internet.
I still have it uploaded but its really pointless now I have studied many different religous texts and tried to contact pychics which just told I hould get my eyes checked obviously not real psychics. I can sometimes still feel the feeling I felt when it was messing with me just not as bad.