For the past few weeks I have been having sleeping problems. I keep having nightmares about a sever drought heading towards mine and other countries. That might be true or not. Well I hope they are just nightmares and not anything of substance. But as I said, I had problems sleeping.
What may have influenced this problem of mine was stress. Stress from school, stress from my home and family life, stress from arguing with friends, stress from just feeling alone in everything and so on.
Plus watching the news these days have become very depressing to me with all the tensions of upcoming wars.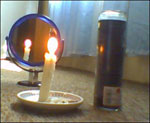 On Saturday I just said enough is enough. I just abandoned all of my chores, worries and assignments and went and secluded myself for the whole day in my room meditating, praying and fasting.
I sat down in the infamous lotus position and lighted a white candle for concentration. Then I did by breathing and stretching exercises to help relax my mind for preparation to meditate.
And then I emptied my mind from all the stress and worry that plagues me in this life. It was hard at first, but then I was able not to be distracted.
Then I felt warmth and love immeasurably being directed at me from a source. It could of been a being watching over me. I felt so calm and at peace. So peaceful that it surpassed all form of understanding. I just let everything go.
I also had a tingling sensation running up my spine. Inside me felt like if I was about to orgasm.
It was bliss. I never felt this way before.
From Saturday night I slept like a baby. Waking up each morning feeling rejuvenated and relaxed.
It feels like I absorbed that being's energy.